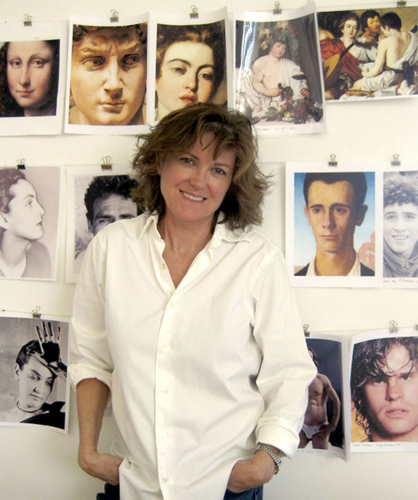 Tabitha Vevers is the recipient of numerous awards and honors, including grants from the Pollock-Krasner Foundation, The George & Helen Segal Foundation, Massachusetts Artists Foundation, and the University of Rhode Island Visual Arts Sea Grant, and painting fellowships to The Ballinglen Arts Foundation (Ireland), Oberpfälzer Künstlerhaus (Germany), Fine Arts Work Center, Virginia Center for the Creative Arts and The MacDowell Colony. Vevers was a co-founder of artSTRAND, Inc. and has served as a member of the exhibition committee of the Provincetown Art Association & Museum, the admissions panel of the Virginia Center for the Creative Arts, and the Artists' Advisory Board of Castle Hill Center for the Arts. She received her B.A. from Yale University and studied at Skowhegan School of Painting & Sculpture.
Speaking of her work, Cate McQuaid of the Boston Globe said, "The first Tabitha Vevers painting I ever saw stopped me cold...It was gorgeously painted, violent, and almost too intimate to look at." In addition to her figurative work, she is known for her extensive series of Lover's Eyes, which reverse the gaze between artist and model in eyes appropriated from art history.
She has exhibited nationally and internationally and has work in numerous public and private collections. She was honored with a mid-career retrospective entitled NARRATIVE BODIES at the DeCordova Sculpture Park + Museum in 2009. Her work was recently featured in a major exhibition entitled GOLD, at the Belvedere Museum, Vienna. She is represented by the Albert Merola Gallery, Provincetown, MA, Bookstein Projects, New York, NY and Clark Gallery, Lincoln, MA.
Born in New York to artists Elspeth Halvorsen and Tony Vevers, she currently lives and works in Cambridge and Wellfleet, MA and is married to the artist Daniel Ranalli.